Official Bitcoin Exchange (BTC)
---
Rate Bitcoin
Bitcoin (BTC)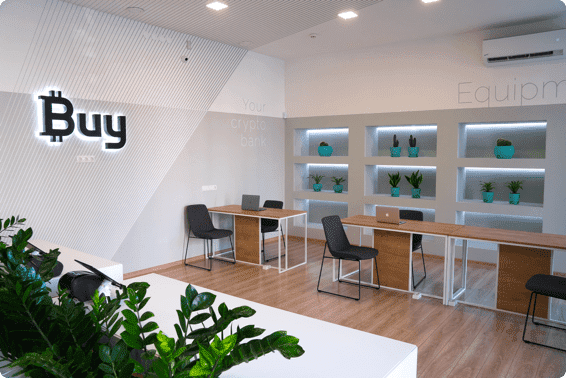 Do you want to exchange cryptocurrency for cash? Come to BUYBank official branch!
The top-rated company that offers safe withdrawal of digital assets.

We provide the possibility of offline exchange in any major city of Ukraine.

Partnership.

95% of users who have effected a transaction through BUYBank for the first time become our regular customers.

Transparent terms of cooperation.

We have a sufficient reserve of fiat currency and do not ask to send coins in advance.
What is BUY Bank?
BUY Bank is the first official Ukrainian service for Bitcoin exchange to USD/UAH cash or withdrawal to a card of any bank.
When is the exchange rate between bitcoin and fiat set?
The exchange rate is fixed at the time of order creation for 30 minutes to purchase and after 2nd confirmation to sell.
Do I need to provide my ID?
No, exchange is absolutely private, no ID necessary
Is it safe to provide you with my bank card details?
We do not store your card data.
All financial transactions are made on the payment gateway side that meets all the security requirements of the standard PCI DSS level 1.
Go to FAQ
Where are BUYBank branches located?
Kyiv, Antonovycha st., 45
Mon-Fri, 11:30am - 6:30pm
Sat, 12:00am - 4:00pm
Odesa, st. Katerynynska, 2
Mon-Fri, 11:30am - 6:30pm
Sat, by appointment