All transactions undergo mandatory
AML verification
– more details
here
Exchange instructions can be found
here
Rate Bitcoin
Bitcoin (BTC)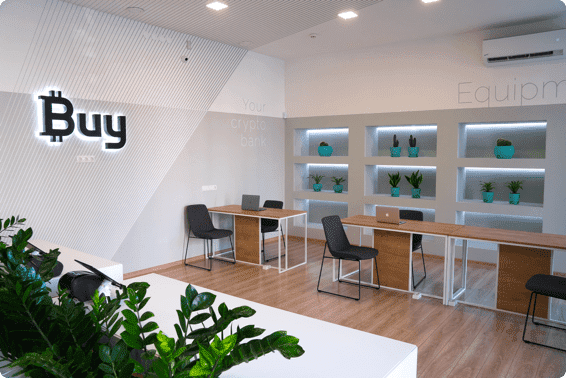 Do you want to exchange cryptocurrency for cash? Come to BUYBank official branch!
The top-rated company that offers safe withdrawal of digital assets.

We provide the possibility of offline exchange in any major city of Ukraine.

Partnership.

95% of users who have effected a transaction through BUYBank for the first time become our regular customers.

Transparent terms of cooperation.

We have a sufficient reserve of fiat currency and do not ask to send coins in advance.
Bitcoin online calculator: how much will you get at the current rate
Are you going to buy or sell bitcoin? Due to the high cost of cryptocurrency, it is not so simple to immediately calculate the amount you receive or give. And most online converters only work with fiat currencies. However, this is not a problem — the BUYBank service users have a convenient bitcoin-calculator at their disposal ещ calculate the exchange amount at the current rate at any time.
How to make a calculation
Choose the desired exchange direction: buy bitcoin for fiat or sell cryptocurrency. Enter the amount that you give away, and then the BTC to UAH/USD calculator will display how much you will receive as a result of the operation.
For calculations, only the current rate is used, updated every minute. The counter, integrated in the BTC to UAH/USD calculator, shows in real time how many seconds are left until the next update. Right here on the site you will find periodic charts that will help you to figure out the trends in the bitcoin exchange rate.
If after the calculation you immediately want to make an exchange, indicate the payment method (Visa or Mastercard, Privat24, Monobank, etc.) and btc-wallet details (if you buy cryptocurrency). It remains only to indicate your mobile phone number, read the user agreement and complete the transaction. Simply and easily.
Go to FAQ
Where are BUYBank branches located?
Kyiv, Antonovycha st., 45
Mon-Fri, 11:00am - 7:00pm
Sat, 12:00am - 4:00pm
Odesa, st. Katerynynska, 2
Mon-Fri, 11:30am - 6:30pm
Sat, by appointment