All transactions undergo mandatory
AML verification
– more details
here
Exchange instructions can be found
here
Sell Bitcoin (BTC) in Odessa
---
Rate Bitcoin
Bitcoin (BTC)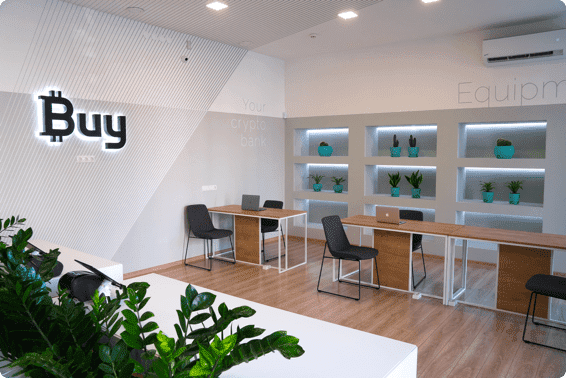 Do you want to exchange cryptocurrency for cash? Come to BUYBank official branch!
The top-rated company that offers safe withdrawal of digital assets.

We provide the possibility of offline exchange in any major city of Ukraine.

Partnership.

95% of users who have effected a transaction through BUYBank for the first time become our regular customers.

Transparent terms of cooperation.

We have a sufficient reserve of fiat currency and do not ask to send coins in advance.
How to sell Bitcoin: guidelines by BUYBank
Cryptocurrency grows in popularity day by day. Today, only the lazy do not know about the fluctuations in the stock exchange, the Bitcoin slump and growth. Some people believe that digital coins are a profitable investment in the future, others prefer to make money on asset value fluctuations, and there are those who simply observe and wait for the right moment to sell or buy. With the help of the BUYBank service, you can exchange Bitcoin online or do it at an official branch.
Trend data: what is worth knowing about the Bitcoin rate
Bitcoin is a decentralized digital asset. Initially, it sparked the interest of IT workers, mathematicians, and ordinary users. But just a few months later, virtual coins met a ready market among both individual traders and large financial corporations. Today it is a large-scale financial system that has united investors around the world.
Over the past few years, Bitcoin has experienced both rapid value growth and an equally rapid slump. To understand the asset behavior today, let's look at the numbers. On average, in 2019, the Bitcoin price did not exceed $13,000, and a year later it was more than $29,000 per coin. In 2021, the behavior has been just as intense. In February, the Bitcoin cost reached $62,000, and after the price dropped. According to experts, in the future, BTC will demonstrate a steady upward trend. On the one hand, this is just a forecast, and on the other, there is an option to consider investment possibilities and find a reliable Bitcoin exchanger in Odesa.
When it comes to the total capitalization of the asset, the situation is just as bright: in 2020 it amounted to $160 billion, which is almost twice as much as in 2019. Now the situation continues to evolve, and as of early April 2021, the capitalization amounted to about $758 billion.
Show more
Where are BUYBank branches located?
Kyiv, Antonovycha st., 45
Mon-Fri, 11:00am - 7:00pm
Sat, 12:00am - 4:00pm
Odesa, st. Katerynynska, 2
Mon-Fri, 11:30am - 6:30pm
Sat, by appointment