All transactions undergo mandatory
AML verification
– more details
here
Exchange instructions can be found
here
Buy Tether (USDT) in Ukraine
---
Rate Bitcoin
Bitcoin (BTC)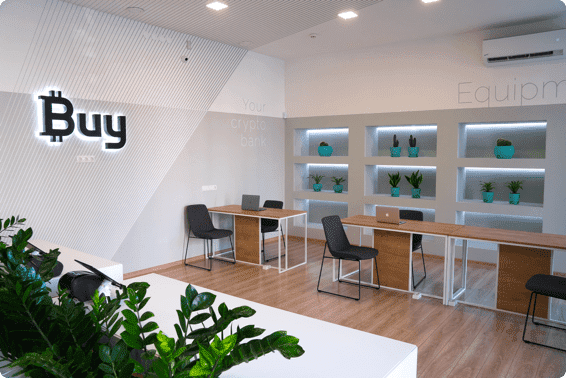 Do you want to exchange cryptocurrency for cash? Come to BUYBank official branch!
The top-rated company that offers safe withdrawal of digital assets.

We provide the possibility of offline exchange in any major city of Ukraine.

Partnership.

95% of users who have effected a transaction through BUYBank for the first time become our regular customers.

Transparent terms of cooperation.

We have a sufficient reserve of fiat currency and do not ask to send coins in advance.
How to buy stablecoin USDT
Stablecoins are digital currencies pegged to an underlying asset and created_at to minimize price volatility. USDT (Tether) is one of the most popular stablecoins in the world of cryptocurrencies, backed by the US dollar: one unit is equal to $1. There are also Tether coins for the euro and the yen.
Tether was created_at in 2016. USDT is built on the Bitcoin blockchain system and has similar characteristics. The connection between Bitcoin and Tether led to the rapid price increase for Bitcoin by $400 in just one hour, after a large emission of USDT tokens.
Key features of USDT:
Stability.

While maintaining a solid balance of 1 USDT = 1 USD, the value remains unchanged and the volatility is practically zero;

Security,

which is provided by the bitcoin system and allows for reliable and secure transactions;

Reliability.

Reports are published daily to monitor the current stock of assets to support the USDT price.
In 2020-2021, Tether can be confidently called a profitable investment, since its praice is stable and emissions are predictable. Due to the stable exchange rate, this cryptocurrency is often used for storing assets, as well as for pumping the Bitcoin price.
Show more
Where are BUYBank branches located?
Kyiv, Antonovycha st., 45
Mon-Fri, 11:00am - 7:00pm
Sat, 12:00am - 4:00pm
Odesa, st. Katerynynska, 2
Mon-Fri, 11:30am - 6:30pm
Sat, by appointment