Officially buy Bitcoin (BTC) for Monobank
Want a better rate?
Bitcoin Rate
Bitcoin (BTC)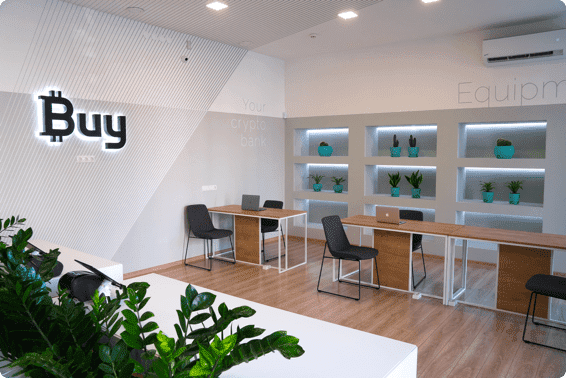 Don't know where to change Bitcoin for USD/UAH cash? We are waiting for you at BUY Bank office!
Automated self-service terminal for cryptocurrency sale and purchase

Instant confirmation with purchase check

Absolutely private - no ID submitted

How to find us?

Kyiv, Antonovycha st., 45 (Olimpiyska station)
Mon-Fri 10am - 7pm
Comfort and convenience: buy Bitcoin with Monobank
Monobank is the first mobile bank that won the fans of online payments not only with its functionality and the convenience of a mobile application, but also with a non-standard approach in providing banking services.
BUYBank customers appreciate the convenience and speed of payments, so it's no wonder that many use a Monobank card to buy Bitcoin. With its help, it is convenient to purchase cryptocurrency, as well as use it to withdraw funds when selling bitcoin. The operation takes a minimum of time and does not require entering personal data.
How to buy Bitcoin with Monobank
The algorithm of actions isn't much different cryptocurrency purchase with cards of other Ukrainian banks.
Set the desired exchange direction (UAH-BTC) on the page and select Monobank as a payment method.
Indicate the address of the bitcoin wallet to which the coins will be transferred, and your mobile phone number.
Read the rules of the service, click the Buy BTC button and enter the data of your bank card.
Please note: the system does not store card data, operations occur on the payment gateway side, which complies with PCI DSS level 1 security standard.
The exchange rate is fixed for 30 minutes at the time of order creation, so that the buyer has time to make payment. Service fee is already included in the rate, its amount depends on the current market situation and total exchange sum. As soon as the BUYBank system receives successful payment notification, the coins will be sent to your wallet. Enrollment speed depends on the bitcoin network load.
The minimum exchange amount is 1000 UAH, the maximum is set according to the rules of payment systems. If you want to buy bitcoin using Monobank for an amount exceeding the limit, please contact technical support in the chat, and the operator will offer a suitable option.
Buying bitcoin through BUYBank service and paying for the exchange with Monobank card is convenient and profitable!
Go to FAQ