Sell Bitcoin (BTC) for Wire and Cash in Kiev
Want a better rate?
Bitcoin Rate
Bitcoin (BTC)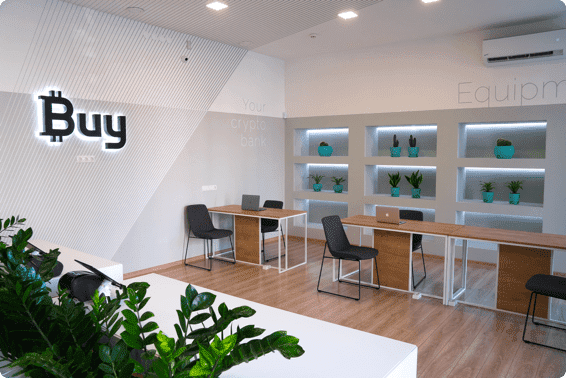 Don't know where to change Bitcoin for USD/UAH cash? We are waiting for you at BUY Bank office!
Automated self-service terminal for cryptocurrency sale and purchase

Instant confirmation with purchase check

Absolutely private - no ID submitted

How to find us?

Kyiv, Antonovycha st., 45 (Olimpiyska station)
Mon-Fri 11am - 7pm
Where can I profitably sell bitcoin in Kyiv
Bitcoin attracts with high liquidity. When cash is needed, it is easy to exchange for fiat currency. If you need to sell bitcoins in Kyiv, visit the office of BUYBank, the first official cryptocurrency exchange service in Ukraine. You can also make an operation online by withdrawing money to a bank card.
Where to sell bitcoin for cash in Kyiv
If you need cash, we invite you to the BUYBank office located in Kyiv at Antonovycha st., 45. Here customers can conduct an exchange with the help of our managers. To complete the operation, you need to perform the following actions:
Agree on the amount that you change, the terms of exchange and commission;
Transfer coins to a bitcoin wallet address, provided by the manager.
At this time, a check takes place to prevent the possible sale of the same coins. In classic bitcoin wallets, a transaction is considered legitimate after six confirmations about inclusion in the block. We consider the transfer accepted after the second confirmation. The selling rate is fixed, you can get money at the cash desk.
Show more