All transactions undergo mandatory
AML verification
– more details
here
Exchange instructions can be found
here
Sell Ethereum (ETH) in Ukraine
---
Rate Bitcoin
Bitcoin (BTC)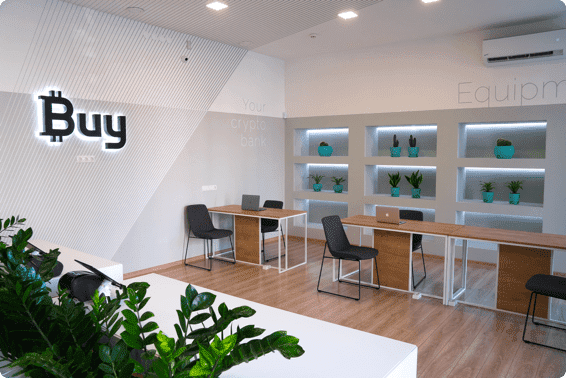 Do you want to exchange cryptocurrency for cash? Come to BUYBank official branch!
The top-rated company that offers safe withdrawal of digital assets.

We provide the possibility of offline exchange in any major city of Ukraine.

Partnership.

95% of users who have effected a transaction through BUYBank for the first time become our regular customers.

Transparent terms of cooperation.

We have a sufficient reserve of fiat currency and do not ask to send coins in advance.
How to sell Ethereum: instructions from BUYBank
Ethereum is the second cryptocurrency in the world by market capitalization and popularity among people. In 2019, the capitalization of Ethereum exceeded 32 billion dollars. The reasons to the popularity of this cryptocurrency are:
high safety due to the support of blockchain technology;

availability of cryptocurrency in a large number of exchanges;

increased attractiveness for investments after the skyrocketing of the Ethereum price in 2017-2018.
The feasibility of investing in this cryptocurrency is beyond doubt. With the opening of the first in Ukraine official Ethereum and Bitcoin exchange service BUYBank, every resident of our country can buy or sell Ethereum fast and easy. This can be done both online and in the physical office.
How to determine the price of Ethereum before selling?
If you want to know the current Ethereum rate, use the information on our website. In addition to the current price, the user has access to a graph of price fluctuations during the last month, daily growth and a convenient calculator.
Many variables can affect the Ethereum price, such as: the general market situation, the massive creation of new projects on the Ethereum blockchain, the decrease of interest in ICOs and the launches of other cryptocurrencies. In 2018 Ethereum has reached the highest price - 1118 USD per coin, despite the fact that in 2015 the cost of digital currency did not exceed 7 dollars per coin. Today, Ethereum is far from its all-time high price, but it demonstrates stable positions and retains great potential for growth.
It is obvious that Ethereum exchange rate is quite volatile, which makes it a profitable option for an investment. And if you already have a few coins in stock, BUYBank service will help to sell them and transfer money equivalent to the card of any Ukrainian bank. You can calculate the amount of the sale or purchase of Ethereum on the built-in calculator without leaving the main page.
Show more
Where are BUYBank branches located?
Kyiv, Antonovycha st., 45
Mon-Fri, 11:00am - 7:00pm
Sat, 12:00am - 4:00pm
Odesa, st. Katerynynska, 2
Mon-Fri, 11:30am - 6:30pm
Sat, by appointment