All transactions undergo mandatory
AML verification
– more details
here
Exchange instructions can be found
here
Buy Bitcoin (BTC) in Ivano-Frankivsk
---
Rate Bitcoin
Bitcoin (BTC)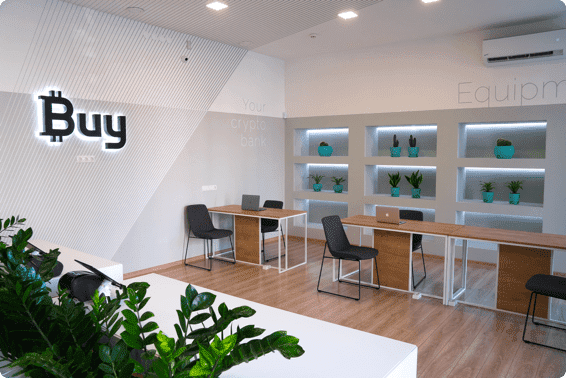 Do you want to exchange cryptocurrency for cash? Come to BUYBank official branch!
The top-rated company that offers safe withdrawal of digital assets.

We provide the possibility of offline exchange in any major city of Ukraine.

Partnership.

95% of users who have effected a transaction through BUYBank for the first time become our regular customers.

Transparent terms of cooperation.

We have a sufficient reserve of fiat currency and do not ask to send coins in advance.
How to buy Bitcoin in Ivano-Frankivsk: BUYBank service algorithm
During its existence, Bitcoin has proved itself worthy of being called "digital gold". The first cryptocurrency is independent of government policies and central banks, and its value is determined solely by supply and demand on the market. BTC can be used as a trading and investment instrument, as well as a means of payment (for online shopping, payment for services, etc.). If you want to buy bitcoin for hryvnia or other fiat currency in Ivano-Frankivsk, you can use the instruction from BUYBank. Our service offers conversion services on the most favorable terms.
Key facts about Bitcoin
Many people know about the benefits of investing in digital coins, but where to start the path of a crypto investor? Today, several thousand virtual assets are available for choice. The first cryptocurrency is Bitcoin. It appeared in 2009, and since then, the popularity of "digital gold" has not waned. Many cryptocurrency experts recommend buying bitcoin, seeing potential in this coin in the long term. And although the sharp change in trends creates certain risks, the volatility of this coin is not a disadvantage but an additional opportunity to increase capital by building the right strategy.
Since the beginning of 2023, the bitcoin rate has been growing. Analysts' forecasts regarding the future of BTC differ. According to some forecasts, "digital gold" will reach $250,000 per coin. Whether to buy USDT for dollars and wait for the right moment to acquire BTC or to invest directly in bitcoins is up to you. The important thing is to monitor the situation to understand the moods of other investors and the overall situation on the market.
Show more
Where are BUYBank branches located?
Kyiv, Antonovycha st., 45
Mon-Fri, 11:00am - 7:00pm
Sat, 12:00am - 4:00pm
Odesa, st. Katerynynska, 2
Mon-Fri, 11:30am - 6:30pm
Sat, by appointment