All transactions undergo mandatory
AML verification
– more details
here
Exchange instructions can be found
here
Buy Bitcoin (BTC) in Kharkiv
---
Rate Bitcoin
Bitcoin (BTC)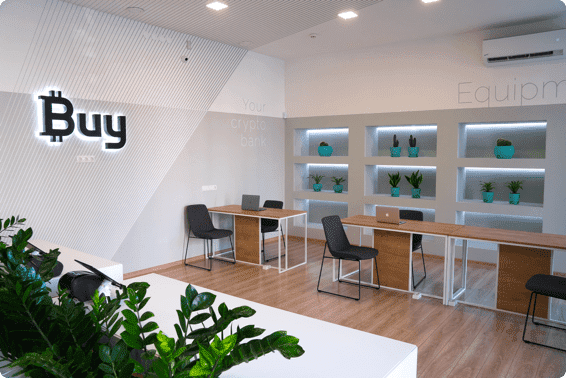 Do you want to exchange cryptocurrency for cash? Come to BUYBank official branch!
The top-rated company that offers safe withdrawal of digital assets.

We provide the possibility of offline exchange in any major city of Ukraine.

Partnership.

95% of users who have effected a transaction through BUYBank for the first time become our regular customers.

Transparent terms of cooperation.

We have a sufficient reserve of fiat currency and do not ask to send coins in advance.
How to buy Bitcoin with Hryvnia in Kharkiv?
Bitcoin is the flagship cryptocurrency, and its demand has been growing since its inception in 2009. The price of BTC goes through cycles, and while experts may predict short-term bearish trends, investments in Bitcoin are considered justified from a strategic perspective. This asset can be used for long-term investments, capital preservation, capital growth, as well as speculation in the cryptocurrency market. If you want to buy Bitcoin in Kharkiv, you can use the services of BUYBank.
Bitcoin: What you need to know about the first cryptocurrency
The emergence of Bitcoin in 2009 marked a new era in the global financial system. The anonymous figure known as Satoshi Nakamoto is credited with creating the first digital asset, driven by the idea of creating a decentralized system and providing users with financial freedom. The developer succeeded in implementing this vision: the price of Bitcoin is not dependent on a single governing authority, and transactions on the network are conducted without intermediaries. Thanks to being based on blockchain technology, BTC transactions are anonymous and secure.
An important characteristic of Bitcoin is its deflationary nature. Only 21 million coins can ever be mined, and a significant portion has already been extracted. It is estimated that the last Satoshi (the smallest unit of BTC) will be obtained around the year 2140. The artificial scarcity ensures the value of this cryptocurrency and indicates its growth potential.
Show more
Where are BUYBank branches located?
Kyiv, Antonovycha st., 45
Mon-Fri, 11:00am - 7:00pm
Sat, 12:00am - 4:00pm
Odesa, st. Katerynynska, 2
Mon-Fri, 11:30am - 6:30pm
Sat, by appointment