All transactions undergo mandatory
AML verification
– more details
here
Exchange instructions can be found
here
Buy Tether (USDT) in Chervonohrad
---
Rate Bitcoin
Bitcoin (BTC)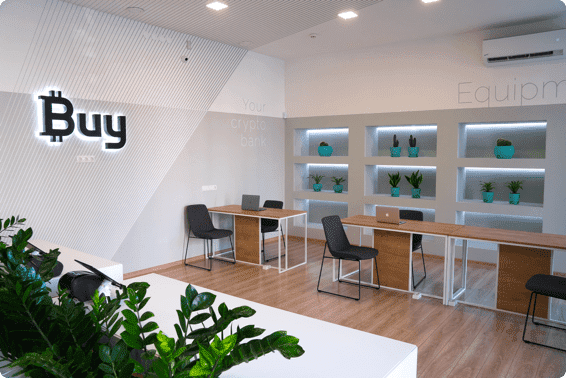 Do you want to exchange cryptocurrency for cash? Come to BUYBank official branch!
The top-rated company that offers safe withdrawal of digital assets.

We provide the possibility of offline exchange in any major city of Ukraine.

Partnership.

95% of users who have effected a transaction through BUYBank for the first time become our regular customers.

Transparent terms of cooperation.

We have a sufficient reserve of fiat currency and do not ask to send coins in advance.
How to Buy USDT with Ukrainian Hryvnia or US Dollars in Chervonograd
Stablecoins are unique as they combine the features of cryptocurrencies and fiat money. In economic instability and cryptocurrency market downturns, many investors store their capital in USDT (Tether). It is the first stablecoin that emerged in 2015 and has since become one of the market leaders. This virtual asset ranks third in market capitalization, following only Bitcoin and Ethereum.
Due to its stable price and absence of price fluctuations, USDT can be considered an investment instrument and a store of value. If you want to purchase Tether for cash, you can use the all-Ukrainian cryptocurrency exchange BUYBank services. We have prepared detailed instructions on how to perform the exchange in Chervonograd.
What Makes USDT Attractive?
Tether, like many other stablecoins, is pegged to a fiat currency. It is backed by the US dollar and is considered one of the most stable and resilient cryptocurrencies on the market. The issuer ensures a 1:1 parity and the fluctuations are typically insignificant. The sufficient reserves are regularly confirmed by independent auditors. Tether is based on blockchain technology, similar to BTC, which provides reliable protection against network fraud and hackers.
Considering the lack of volatility, the USDT exchange rate remains stable. While it may not be suitable for speculative trading, it can be used for profit preservation and capital storage. You just need to wait for the right moment to reinvest your funds into promising cryptocurrencies and return to trading.
Moreover, the advantages of USDT include:
Low transaction costs
Full anonymity
Near-instant transfers to any part of the world
Wide range of utility (trading, investments, payments)
Show more
Where are BUYBank branches located?
Kyiv, Antonovycha st., 45
Mon-Fri, 11:00am - 7:00pm
Sat, 12:00am - 4:00pm
Odesa, st. Katerynynska, 2
Mon-Fri, 11:30am - 6:30pm
Sat, by appointment