All transactions undergo mandatory
AML verification
– more details
here
Exchange instructions can be found
here
Buy Tether (USDT) in Kharkiv
---
Rate Bitcoin
Bitcoin (BTC)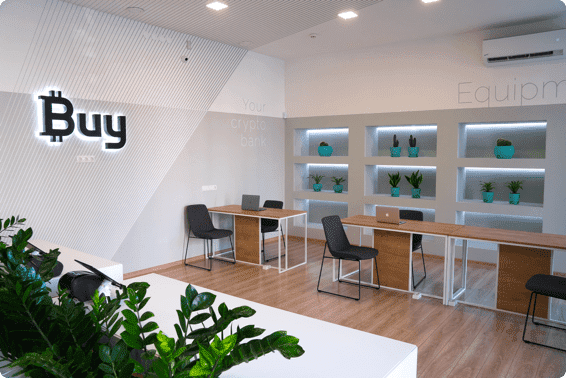 Do you want to exchange cryptocurrency for cash? Come to BUYBank official branch!
The top-rated company that offers safe withdrawal of digital assets.

We provide the possibility of offline exchange in any major city of Ukraine.

Partnership.

95% of users who have effected a transaction through BUYBank for the first time become our regular customers.

Transparent terms of cooperation.

We have a sufficient reserve of fiat currency and do not ask to send coins in advance.
Buying USDT (Tether) in Kharkiv: A Guide from BUYBank Experts
USDT is one of the most popular stablecoins, sought after by active traders on cryptocurrency exchanges as well as investors. The token holds the third position in terms of market capitalization, following only BTC and ETH. Read the BUYBank instruction to learn how to buy USDT in Kharkiv without hidden fees and unnecessary complications.
Key Information about USDT
USDT is a coin introduced by Tether in 2015. This stablecoin maintains a 1:1 peg to the US dollar. The issuing company ensures sufficient reserves to back each USDT with 1 US dollar. The USDT exchange rate is fixed, and minor deviations of fractions of a percent do not significantly impact transactions.
The stability of USDT is its primary advantage, as the exchange rate of top cryptocurrencies constantly fluctuates. This coin can be used to store capital and protect it from high inflation risks and sharp price swings, which are common in most cryptocurrencies.
USDT can also be purchased for trading on exchanges. The stablecoin is easily convertible to bitcoins or altcoins, allowing for speculation on volatility. Passive investors acquire this stable coin during economic instability or crypto downturns. The token enables them to put their financial strategy on hold as it maintains its value. With the assistance of BUYBank, the coin can be exchanged for fiat (Ukrainian hryvnias or US dollars) at any time.
Show more
Where are BUYBank branches located?
Kyiv, Antonovycha st., 45
Mon-Fri, 11:00am - 7:00pm
Sat, 12:00am - 4:00pm
Odesa, st. Katerynynska, 2
Mon-Fri, 11:30am - 6:30pm
Sat, by appointment