All transactions undergo mandatory
AML verification
– more details
here
Exchange instructions can be found
here
Buy Tether (USDT) in Lutsk
---
Rate Bitcoin
Bitcoin (BTC)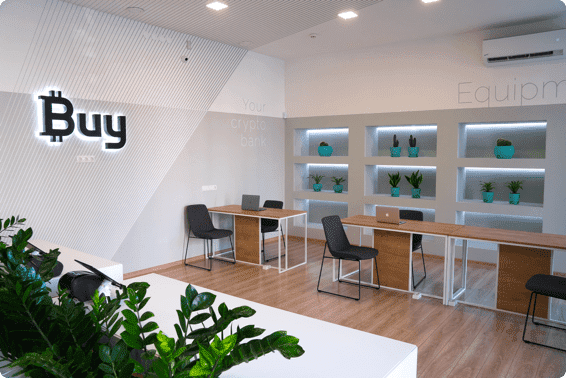 Do you want to exchange cryptocurrency for cash? Come to BUYBank official branch!
The top-rated company that offers safe withdrawal of digital assets.

We provide the possibility of offline exchange in any major city of Ukraine.

Partnership.

95% of users who have effected a transaction through BUYBank for the first time become our regular customers.

Transparent terms of cooperation.

We have a sufficient reserve of fiat currency and do not ask to send coins in advance.
USDT: How to Buy Cryptocurrency in Lutsk
USDT (Tether) is one of the most stable cryptocurrencies, as its value is pegged to the base fiat currency. This feature, as well as its low volatility, have made it an attractive asset for storing value. The stablecoin is gaining popularity as a universal payment tool and is among the top three most popular digital currencies in the world.
Are you looking for a place to buy USDT for dollars or hryvnias? Use the services of the BUYBank exchange office. With our service, you can buy cryptocurrency for cash: secure exchange is carried out through the cashier at the branch.
Features of USDT and the stablecoin exchange rate
Tether is a digital currency that uses the Bitcoin blockchain for financial transactions. Despite having many similarities to Bitcoin, it differs in:
The inability to be mined via mining - issuance is only done upon depositing fiat funds.
Being pegged to real money (USDT to the US dollar, EURT to the euro, JPYT to the Japanese yen).
Being backed by monetary reserves of the company Tether Limited, which issues the coins (the amount of available funds in accounts is published on the issuer's official website).
Investment experts consider tether to be a bridge between two financial worlds - real and virtual. Until 2018, the creators of the digital currency stated that each unit was backed by one US dollar. However, later, Tether Limited management made a clarification: USDT is backed not only by cash dollars, but also by funds provided by the company's partners in credit to borrowers.
1 USDT equals $1. In fact, even with fluctuations in the USDT exchange rate, the difference between fiat and tether is insignificant. For example, after the crash in 2017, the stablecoin was worth $0.91 and later rose to $1.1. In conditions of economic instability and growing inflation, investing in a stable cryptocurrency can help protect against depreciation and accumulate money.
Show more
Where are BUYBank branches located?
Kyiv, Antonovycha st., 45
Mon-Fri, 11:00am - 7:00pm
Sat, 12:00am - 4:00pm
Odesa, st. Katerynynska, 2
Mon-Fri, 11:30am - 6:30pm
Sat, by appointment