All transactions undergo mandatory
AML verification
– more details
here
Exchange instructions can be found
here
Buy Tether (USDT) in Ternopil
---
Rate Bitcoin
Bitcoin (BTC)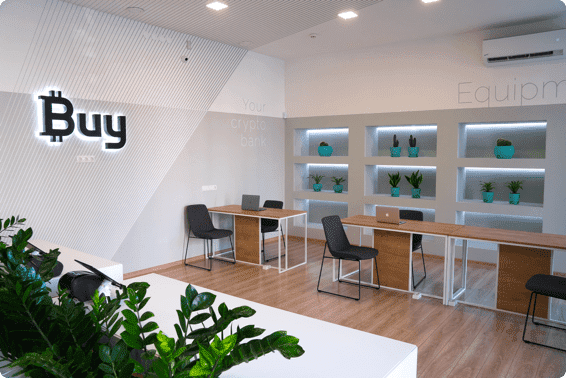 Do you want to exchange cryptocurrency for cash? Come to BUYBank official branch!
The top-rated company that offers safe withdrawal of digital assets.

We provide the possibility of offline exchange in any major city of Ukraine.

Partnership.

95% of users who have effected a transaction through BUYBank for the first time become our regular customers.

Transparent terms of cooperation.

We have a sufficient reserve of fiat currency and do not ask to send coins in advance.
How to buy USDT in Ternopil for hryvnias and US dollars: a step-by-step algorithm from BUYBank
Stablecoin, which is among the top three most popular cryptocurrencies in the world, differs from other digital currencies in its stable exchange rate and its attachment to fiat money. The company that issues USDT (Tether) adheres to the principles of transparency of financial operations and has sufficient funds to ensure virtual assets. The token can be used with minimal risk as a means of electronic payments, preservation, and capital accumulation.
If you have decided to invest in a low-volatile cryptocurrency and are looking for a reliable USDT exchange in Ternopil, use the services of the BUYBank service. Buying USDT for cash dollars or hryvnias is very easy. Check the current exchange rate on the website and follow our instructions.
Features of stablecoin
Tether is a virtual currency created on the basis of the Bitcoin blockchain using the Omni Layer protocol. The token has been issued since 2015. Its issuer is Tether Limited, which is registered in the British Virgin Islands. There are 4 types of stablecoins on the market, which are secured by corresponding monetary and physical assets:
USDT - US dollar;
EURT - euro;
CNT - Chinese yuan;
XAUT - 1 ounce of gold.
The most popular of these tethers is USDT, whose exchange rate is stable at around $1 and is practically not subject to fluctuations. Cryptocurrency backing should be understood not only as cash dollars held in the issuer's reserves but also as funds issued by the issuer's partners as loans.
The resistance to volatility, on the one hand, does not allow you to earn on the exchange rate fluctuations, but on the other hand, it allows you to maintain and accumulate assets, protecting your savings from inflation.
Show more
Where are BUYBank branches located?
Kyiv, Antonovycha st., 45
Mon-Fri, 11:00am - 7:00pm
Sat, 12:00am - 4:00pm
Odesa, st. Katerynynska, 2
Mon-Fri, 11:30am - 6:30pm
Sat, by appointment