All transactions undergo mandatory
AML verification
– more details
here
Exchange instructions can be found
here
Buy Tether (USDT) in Uzhhorod
---
Rate Bitcoin
Bitcoin (BTC)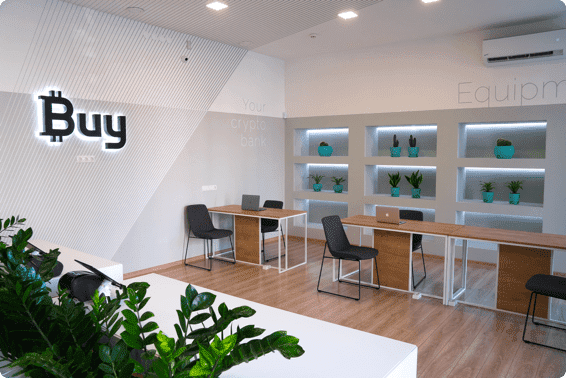 Do you want to exchange cryptocurrency for cash? Come to BUYBank official branch!
The top-rated company that offers safe withdrawal of digital assets.

We provide the possibility of offline exchange in any major city of Ukraine.

Partnership.

95% of users who have effected a transaction through BUYBank for the first time become our regular customers.

Transparent terms of cooperation.

We have a sufficient reserve of fiat currency and do not ask to send coins in advance.
Purchase USDT (Tether) in Uzhgorod: Safe exchange at BUYBank
Stablecoins are cryptocurrencies whose exchange rate is tied to the quotes of fiat (US dollars, euros, etc.) and other valuable assets (oil, gold). The first stablecoin is USDT (Tether), which remains one of the most popular tokens and is in the top three by market capitalization.
The attractiveness of such digital assets lies in the reliability of fiat and the freedom of financial transactions provided by cryptocurrencies. The USDT rate remains stable: the coin has been valued at 1 USD for many years. Deviations usually do not exceed hundredths of a percent, which cannot be considered a loss of parity. Moreover, the token's value is not affected by either an agiotage demand or expert opinions of the crypto community. We will tell you about the main advantages of this stablecoin and how to buy USDT in Uzhgorod.
Key facts about USDT
USDT is a stablecoin released into circulation by Tether Limited 8 years ago. Bitfinex was the first to add this stablecoin to the list of tradable cryptocurrencies, and then many other platforms did the same. The issuer provides the token with a sufficient amount of fiat funds, which are stored in the company's accounts. Demand for Tether remains consistently high worldwide, including among Ukrainian investors.
There are several reasons to buy USDT for hryvnia. First of all, such a step allows you to take care of the safety of your capital during periods of economic instability, as the dollar is not subject to such inflation. In addition, by choosing Tether, you can use all the advantages of digital format settlements. As an option, Tether can be used for trading on cryptocurrency exchanges and transfers between various platforms and for online purchases. USDT will also come in handy for diversifying your investment portfolio, serving as a kind of "haven."
Show more
Where are BUYBank branches located?
Kyiv, Antonovycha st., 45
Mon-Fri, 11:00am - 7:00pm
Sat, 12:00am - 4:00pm
Odesa, st. Katerynynska, 2
Mon-Fri, 11:30am - 6:30pm
Sat, by appointment