All transactions undergo mandatory
AML verification
– more details
here
Exchange instructions can be found
here
The official exchange Bitcoin (BTC) for Hryvnia (UAH)
---
Rate Bitcoin
Bitcoin (BTC)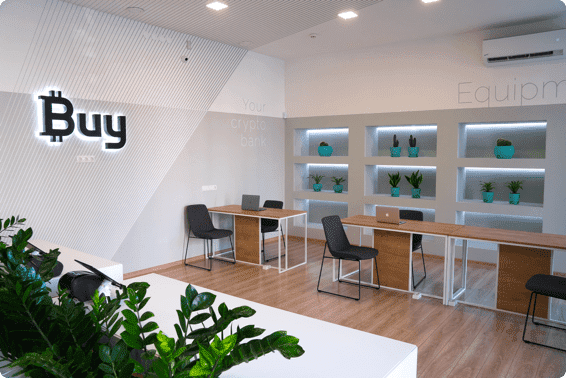 Do you want to exchange cryptocurrency for cash? Come to BUYBank official branch!
The top-rated company that offers safe withdrawal of digital assets.

We provide the possibility of offline exchange in any major city of Ukraine.

Partnership.

95% of users who have effected a transaction through BUYBank for the first time become our regular customers.

Transparent terms of cooperation.

We have a sufficient reserve of fiat currency and do not ask to send coins in advance.
Convenient and safe exchange of Bitcoin for Hryvnia
Cryptocurrencies are considered a highly liquid investment instrument. If you need toreplenish cash, you can always cash out bitcoin. But how to exchange Bitcoin for Hryvnia with the minimum timeand the most profit? BUYBank, the first Ukrainian btc to cash exchange service will come to the rescue. Also, ifyou wish, you can withdraw money to a bank card.
How to sell Bitcoin for the Hryvnia in Kiev
If you need to receive cash, visit our office on Antonovycha Street, 45 (the area of​ ​"Olimpiyska" metro station). The operation goes like this:
Contact the operator in person or via telegram @buycryptobank to determine the number ofcoins you want to sell.
The manager will inform the exchange conditions and the size of the commission.
After agreeing on the conditions, you will be provided with the details for the transfer- the key-identifier of the wallet to which you will need to send bitcoin.
When selling Bitcoin for the Ukrainian hryvnia, the rate is fixed after the secondconfirmation. A verification mechanism is needed to prevent the re-sale of the same coins. If in classicbtc-clients the transaction is considered to be completed after six confirmations, we consider the paymentcompleted immediately after the second confirmation. After that, the amount receivable is calculated.
When remotely sending coins, you will receive a code for paying money at the cash desk.If the exchange is carried out in the department, the manager will invite you to the cashier to receiveHryvnia in banknotes.
If you do not have the opportunity to visit the office, contact the technical support service:the operator will offer suitable options for the transaction.
Show more
Where are BUYBank branches located?
Kyiv, Antonovycha st., 45
Mon-Fri, 11:00am - 7:00pm
Sat, 12:00am - 4:00pm
Odesa, st. Katerynynska, 2
Mon-Fri, 11:30am - 6:30pm
Sat, by appointment