All transactions undergo mandatory
AML verification
– more details
here
Exchange instructions can be found
here
Sell Bitcoin (BTC) in Chernihiv
---
Rate Bitcoin
Bitcoin (BTC)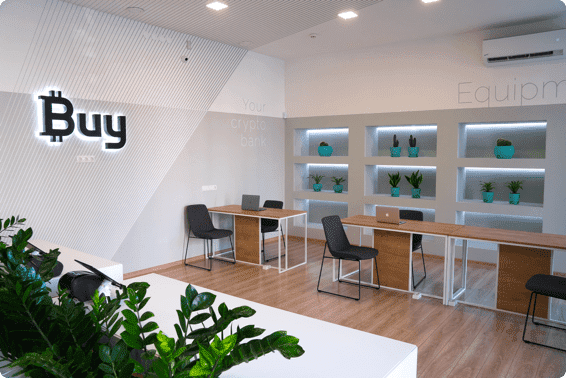 Do you want to exchange cryptocurrency for cash? Come to BUYBank official branch!
The top-rated company that offers safe withdrawal of digital assets.

We provide the possibility of offline exchange in any major city of Ukraine.

Partnership.

95% of users who have effected a transaction through BUYBank for the first time become our regular customers.

Transparent terms of cooperation.

We have a sufficient reserve of fiat currency and do not ask to send coins in advance.
How to exchange Bitcoin for cash in Chernihiv?
Bitcoin has become the first digital currency that operates based on blockchain. A distributed ledger represents a chain of blocks storing information about financial transactions. Cryptocurrency transactions are irreversible and anonymous. Given the high liquidity of BTC and its popularity among individual and institutional investors, exchanging Bitcoin for dollars, hryvnias, or any other fiat currency should not be difficult. The top Bitcoin exchange service in Chernihiv, BUYBank, will help safely convert cryptocurrency and obtain cash.
Essential information about "digital gold"
In 2009, an unknown developer using the pseudonym Satoshi Nakamoto created BTC to bring people financial freedom and new earning opportunities. Debates about who Satoshi is continued while his legacy lives on.
BTC is rightly called "digital gold." Central bank policies or authorities do not influence Bitcoin's value; it does not have a single issuer controlling its price. This makes the first cryptocurrency unique. In addition, notable features of BTC include:
Limited supply: The number of coins that miners can mine is capped (not exceeding 21,000,000 units). This artificial scarcity helps maintain the value of the first cryptocurrency, which will only increase over time. High level of security:
Bitcoin is built on blockchain technology, ensuring the security of transactions within the network. Protection against artificial inflation:
Authorities cannot control the price of the first cryptocurrency; it is determined by supply and demand in the crypto market.
Transaction anonymity: Nobody can identify the identities of the recipient and sender of digital coins; only limited information is publicly available.
Following BTC, other cryptocurrencies, known as altcoins, have emerged. Each of them is interesting in its own way and has its own development prospects. However, most of these coins correlate with the flagship cryptocurrency.
Show more
Where are BUYBank branches located?
Kyiv, Antonovycha st., 45
Mon-Fri, 11:00am - 7:00pm
Sat, 12:00am - 4:00pm
Odesa, st. Katerynynska, 2
Mon-Fri, 11:30am - 6:30pm
Sat, by appointment