All transactions undergo mandatory
AML verification
– more details
here
Exchange instructions can be found
here
Sell Bitcoin (BTC) in Dnipro
---
Rate Bitcoin
Bitcoin (BTC)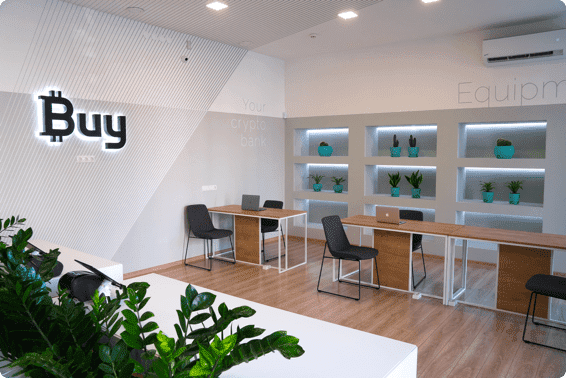 Do you want to exchange cryptocurrency for cash? Come to BUYBank official branch!
The top-rated company that offers safe withdrawal of digital assets.

We provide the possibility of offline exchange in any major city of Ukraine.

Partnership.

95% of users who have effected a transaction through BUYBank for the first time become our regular customers.

Transparent terms of cooperation.

We have a sufficient reserve of fiat currency and do not ask to send coins in advance.
How to Sell BTC in Dnipro: Options for BUYBank Clients
The cryptocurrency Bitcoin has opened up the world of digital assets for users. Moreover, it is still a leader in terms of security and trading volume. It is a valuable asset, so exchanging it for fiat is not a problem. Let's talk about how to sell Bitcoin in Dnipro using the BUYBank service.
Features of the flagship cryptocurrency
Bitcoin is a digital currency created in 2009 and based on blockchain technology. Its developer was an unknown author using the pseudonym Satoshi Nakamoto.
Bitcoin differs from traditional currencies in the absence of a central bank that would regulate its issuance and ensure stability of the exchange rate. BTC has several key features that make it unique:
limited supply. Unlike traditional currencies, the number of coins that can be created is limited to 21 million. This creates an artificial scarcity and maintains its value;
anonymity. Transactions do not contain information about the sender or recipient's identity;
independence from government agencies. The asset is not controlled by the state, but at the same time, the Bitcoin exchange rate partially depends on political decisions and statements from opinion leaders;
high degree of security. Thanks to blockchain technology, transactions can be carried out without involving centralized authorities.
Since the creation of Bitcoin, numerous other cryptocurrencies have emerged that also utilize blockchain technology. However, BTC remains the most popular and well-known cryptocurrency in the world. Its price and influence on the global economy continue to rise, and some experts believe that "digital gold" could become the dominant currency in the future.
Show more
Where are BUYBank branches located?
Kyiv, Antonovycha st., 45
Mon-Fri, 11:00am - 7:00pm
Sat, 12:00am - 4:00pm
Odesa, st. Katerynynska, 2
Mon-Fri, 11:30am - 6:30pm
Sat, by appointment