All transactions undergo mandatory
AML verification
– more details
here
Exchange instructions can be found
here
Sell Bitcoin (BTC) in Kharkiv
---
Rate Bitcoin
Bitcoin (BTC)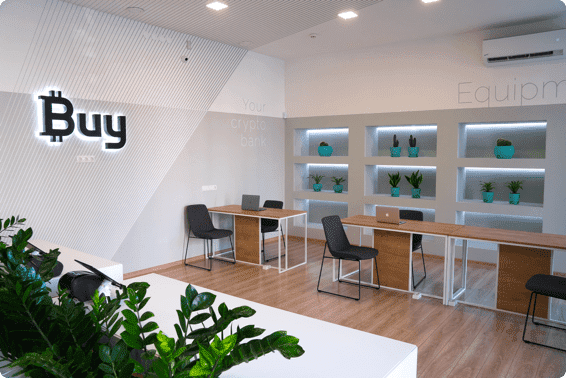 Do you want to exchange cryptocurrency for cash? Come to BUYBank official branch!
The top-rated company that offers safe withdrawal of digital assets.

We provide the possibility of offline exchange in any major city of Ukraine.

Partnership.

95% of users who have effected a transaction through BUYBank for the first time become our regular customers.

Transparent terms of cooperation.

We have a sufficient reserve of fiat currency and do not ask to send coins in advance.
How to Exchange Bitcoin for Hryvnia in Kharkiv
Bitcoin can be considered a phenomenon in the history of the global economy. For several decades, cryptographers attempted to create a decentralized platform, but it wasn't until the emergence of BTC that anyone succeeded. This asset not only transformed the financial system but also became a worthy alternative to fiat currencies, opening up new earning opportunities.
You can buy and sell Bitcoin with the help of the reliable cryptocurrency exchange BUYBank. We will explain how to exchange Bitcoin for dollars or hryvnia in Kharkiv to capture investment profits.
Key Features of BTC
Essentially, Bitcoin is a program code and a peer-to-peer system. The currency is based on blockchain technology, providing robust protection against hacker attacks. The information on the network is encrypted using cryptographic methods, making it impossible to alter. The Bitcoin exchange rate is not influenced by central banks or authorities, and the currency has no issuer. Essentially, the algorithm embedded in its foundation serves as the regulator of this decentralized system. The value of the currency depends on market sentiment, demand, and supply.
Financial transactions are conducted directly without intermediaries. Additionally, cryptocurrency transactions are anonymous and irreversible, and it is important to remember this. It is not possible to reverse a mistaken payment or freeze a client's Bitcoin account.
Show more
Where are BUYBank branches located?
Kyiv, Antonovycha st., 45
Mon-Fri, 11:00am - 7:00pm
Sat, 12:00am - 4:00pm
Odesa, st. Katerynynska, 2
Mon-Fri, 11:30am - 6:30pm
Sat, by appointment