All transactions undergo mandatory
AML verification
– more details
here
Exchange instructions can be found
here
Sell Bitcoin (BTC) in Kolomyia
---
Rate Bitcoin
Bitcoin (BTC)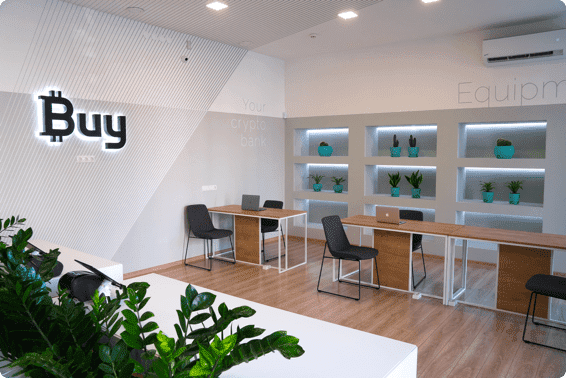 Do you want to exchange cryptocurrency for cash? Come to BUYBank official branch!
The top-rated company that offers safe withdrawal of digital assets.

We provide the possibility of offline exchange in any major city of Ukraine.

Partnership.

95% of users who have effected a transaction through BUYBank for the first time become our regular customers.

Transparent terms of cooperation.

We have a sufficient reserve of fiat currency and do not ask to send coins in advance.
Selling BTC in Kolomyia: Opportunities for BUYBank Clients
The digital currency Bitcoin has opened up a new universe of cryptocurrencies for users. Moreover, it remains the leader in security and market trading volume. It is one of the most valuable digital coins, making it relatively easy to sell for fiat currency. If you intend to sell Bitcoin in Kolomyia, BUYBank can help you do it quickly, profitably, and conveniently.
What you need to know about cryptocurrency
In 2009, Bitcoin became the first and most well-known digital asset. Here are several critical advantages of cryptocurrency:
Bitcoin operates without central control or oversight from governments or banks. It is based on blockchain technology, which ensures transparency and transaction security.
Bitcoin users can initiate transactions on the network without revealing their personal information, ensuring a high level of confidentiality.
The asset allows for fast and cost-effective global payments, which is particularly useful for transfers between different countries.
Cryptocurrency has a limited supply, with only 21 million coins available for mining. This makes it deflationary, thereby preventing its devaluation.
Due to its growing popularity, Bitcoin is an attractive investment option. Many consider it a long-term store of value.
The Bitcoin exchange rate is volatile, which is considered normal for cryptocurrencies. It is influenced by supply and demand, market conditions, global events, and other factors. Importantly, the asset's value always recovers after declines. Therefore, long-term investors do not lose anything, and traders can profit from its fluctuations.
Show more
Where are BUYBank branches located?
Kyiv, Antonovycha st., 45
Mon-Fri, 11:00am - 7:00pm
Sat, 12:00am - 4:00pm
Odesa, st. Katerynynska, 2
Mon-Fri, 11:30am - 6:30pm
Sat, by appointment