All transactions undergo mandatory
AML verification
– more details
here
Exchange instructions can be found
here
Sell Bitcoin (BTC) in Lviv
---
Rate Bitcoin
Bitcoin (BTC)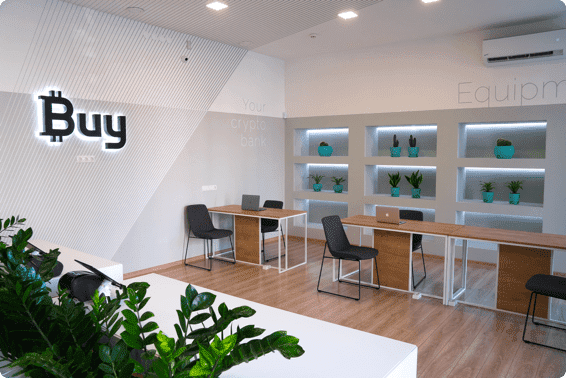 Do you want to exchange cryptocurrency for cash? Come to BUYBank official branch!
The top-rated company that offers safe withdrawal of digital assets.

We provide the possibility of offline exchange in any major city of Ukraine.

Partnership.

95% of users who have effected a transaction through BUYBank for the first time become our regular customers.

Transparent terms of cooperation.

We have a sufficient reserve of fiat currency and do not ask to send coins in advance.
How to Sell BTC in Lviv: Instructions for BUYBank Clients
Bitcoin, a digital currency, became the first virtual asset on the market. It is the leader in terms of market capitalization and the most in-demand cryptocurrency for trading. As the popularity of BTC grows every year, exchanging the coin for fiat currency today is not difficult. In particular, you can easily sell bitcoin in Lviv using the BUYBank service.
Advantages of the main cryptocurrency
Bitcoin was created in 2009 as a digital currency. It operates on blockchain technology, with Satoshi Nakamoto being the main developer of the asset — a practically mythical figure, most likely representing a group of people.
Bitcoin is unlike traditional fiat assets. In particular, it does not have a central governing bank, so the issuance and cryptocurrency rate are not regulated "externally." Coin issuance is carried out through complex mathematical algorithms, and the Bitcoin rate depends solely on the situation (the behavior of "whales," market phases, etc.). Among the main features of the cryptocurrency are:
A fixed volume. This is the key difference between BTC and fiat. Only 21 million coins can be issued, and changing this indicator is impossible. Thus, the asset's value is maintained.
No need to transfer personal data. When transacting in cryptocurrency, no passport or other information about the sender and receiver is required.
No central governing body. No country controls this cryptocurrency, but this does not exclude partial dependence of the rate on political decisions of world leaders.
Security. Transactions on the blockchain are well-protected. Any participant in the network can verify any operation. This reduces the possibility of fraudulent schemes to practically zero.
Bitcoin became the first cryptocurrency and, essentially, inspired the industry.
Currently, there are several thousand digital currencies operating on blockchains.
Show more
Where are BUYBank branches located?
Kyiv, Antonovycha st., 45
Mon-Fri, 11:00am - 7:00pm
Sat, 12:00am - 4:00pm
Odesa, st. Katerynynska, 2
Mon-Fri, 11:30am - 6:30pm
Sat, by appointment