All transactions undergo mandatory
AML verification
– more details
here
Exchange instructions can be found
here
Sell Bitcoin (BTC) in Svitlovodsk
---
Rate Bitcoin
Bitcoin (BTC)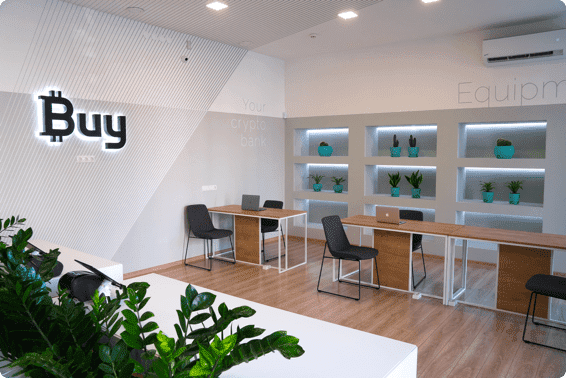 Do you want to exchange cryptocurrency for cash? Come to BUYBank official branch!
The top-rated company that offers safe withdrawal of digital assets.

We provide the possibility of offline exchange in any major city of Ukraine.

Partnership.

95% of users who have effected a transaction through BUYBank for the first time become our regular customers.

Transparent terms of cooperation.

We have a sufficient reserve of fiat currency and do not ask to send coins in advance.
How to Sell Bitcoin in Svetlovodsk: Step-by-Step Algorithm Bitcoin (BTC)
It is the first cryptocurrency that has forever changed the financial world. Today, it is a popular tool for investing, storing value, and making online payments for goods and services. The popularity of this cryptocurrency is due to its high liquidity, volatility, and decentralization. If you are looking for a place to make a profitable Bitcoin exchange in Svetlovodsk, consider using the services of BUYBank. We guarantee transaction anonymity and offer fast and secure deals.
Key Facts about the First Cryptocurrency
Bitcoin is the flagship among digital currencies. It was introduced in 2008 by an individual named Satoshi Nakamoto. Whether it was one person or a group of developers is still unknown, but this individual managed to bring to life an idea that leading cryptographers had been contemplating for decades.
BTC mining began in 2009. At that time, one coin was worth just $1, but within four years, the value of the first cryptocurrency increased by 1,000 times. The peak price of Bitcoin as of the summer of 2023 was nearly $70,000 in November 2021. Cryptocurrency prices are cyclical, so the value tends to decline after significant growth, but it has been reactivated since the beginning of 2023.
As for the future of the first cryptocurrency, expert opinions vary significantly. Some believe it has already passed its "bottom" and will continue to rise in price to $100,000 and beyond, while others predict a correction and a downward trend. If you have profited from the price surge and now want to sell Bitcoin, BUYBank is ready to offer its services.
Show more
Where are BUYBank branches located?
Kyiv, Antonovycha st., 45
Mon-Fri, 11:00am - 7:00pm
Sat, 12:00am - 4:00pm
Odesa, st. Katerynynska, 2
Mon-Fri, 11:30am - 6:30pm
Sat, by appointment