All transactions undergo mandatory
AML verification
– more details
here
Exchange instructions can be found
here
Sell Bitcoin (BTC) in Zhytomyr
---
Rate Bitcoin
Bitcoin (BTC)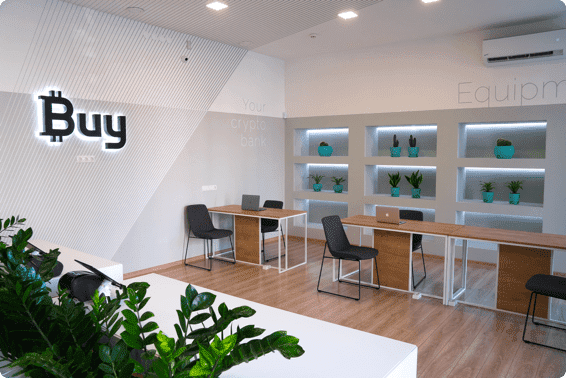 Do you want to exchange cryptocurrency for cash? Come to BUYBank official branch!
The top-rated company that offers safe withdrawal of digital assets.

We provide the possibility of offline exchange in any major city of Ukraine.

Partnership.

95% of users who have effected a transaction through BUYBank for the first time become our regular customers.

Transparent terms of cooperation.

We have a sufficient reserve of fiat currency and do not ask to send coins in advance.
Selling Bitcoin in Zhytomyr: Opportunities for BUYBank Customers
The cryptocurrency Bitcoin retains its leadership position in the digital asset market. Even during periods of decline, interest in the coin persists and it continues to be actively used for trading and investments. If you want to realize profits from your investments in fiat currency, selling Bitcoin in Zhytomyr on favorable terms can be facilitated by BUYBank.
Why is Bitcoin so popular?
The cryptocurrency Bitcoin maintains its leadership in the digital currency market for several reasons, including:
Decentralization. Bitcoin is a currency that does not have a central governing body or owner, which makes it resistant to manipulation by governments or banks and allows users to control their assets.
Anonymity. Users can send and receive funds without revealing personal information.
Fast and convenient BTC transactions. If the blockchain is not congested, transactions can be carried out almost instantly and are not limited by country territories or currency exchange rates.
Investment potential. Like any other currency or investment asset, Bitcoin can be used as an object of profitable investment for further profit on exchange rate differences. It also attracts investors as a tool for portfolio diversification.
Media popularity. Bitcoin has become in demand, among other things, thanks to mass media and social media, which drew attention to it and created a community of people interested in its use.
These factors have become prerequisites for the convenience of operations with the cryptocurrency. In particular, the ability to exchange Bitcoin for fiat currency in Zhytomyr only confirms the trust in the coin and the Proof of Work algorithms used in the blockchain.
Show more
Where are BUYBank branches located?
Kyiv, Antonovycha st., 45
Mon-Fri, 11:00am - 7:00pm
Sat, 12:00am - 4:00pm
Odesa, st. Katerynynska, 2
Mon-Fri, 11:30am - 6:30pm
Sat, by appointment