All transactions undergo mandatory
AML verification
– more details
here
Exchange instructions can be found
here
Sell Tether (USDT) in Cherkasy
---
Rate Bitcoin
Bitcoin (BTC)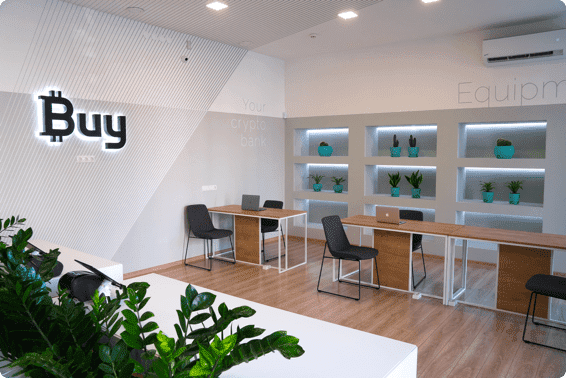 Do you want to exchange cryptocurrency for cash? Come to BUYBank official branch!
The top-rated company that offers safe withdrawal of digital assets.

We provide the possibility of offline exchange in any major city of Ukraine.

Partnership.

95% of users who have effected a transaction through BUYBank for the first time become our regular customers.

Transparent terms of cooperation.

We have a sufficient reserve of fiat currency and do not ask to send coins in advance.
How to Sell USDT in Cherkasy: Recommendations from BUYBank Experts
The stablecoin USDT remains one of the most in-demand assets in the cryptocurrency market. This is confirmed by official rankings, as the stablecoin is among the top three in terms of market capitalization, alongside Bitcoin and Ethereum. USDT maintains a 1:1 peg with the US dollar, which instills high confidence in this token. If you have previously acquired USDT and want to sell it in Cherkasy, the BUYBank service can assist you in doing so. You can exchange the token for cash offline.
Here are some important facts about USDT
USDT (Tether) is a stablecoin that is pegged to the US dollar at a 1:1 ratio. Cryptocurrency holders associate it with stability and capital protection from the cryptocurrency market's volatility. The price of the token is almost always equal to one US dollar, making it a reliable medium of exchange. Additionally, this quality allows holders to capture profits during periods when prices of other cryptocurrencies are unstable.
Tether enjoys high liquidity, making buying or selling on cryptocurrency exchanges or specialized exchanges easy. The asset can also be used as a means of payment for goods and services.
Being built on blockchain technology, the stablecoin is protected against fraudulent attacks and hacking attempts. This provides additional security for those who use it in their transactions.
Thanks to its qualities, Tether serves as a versatile payment instrument that can be used to transfer assets between different countries. This is particularly convenient for individuals and companies working with international partners, providing an alternative to expensive and time-consuming fiat transactions.
Due to the stable price of USDT, it is not possible to profit from its value fluctuations. However, holders actively utilize Tether as a stable asset to protect their capital before subsequently purchasing other cryptocurrencies. USDT can be stored for extended periods without concerns about market trends and fluctuations. Using Tether reduces the level of risk, which cannot be said for cryptocurrencies that are not backed by fiat.
Show more
Where are BUYBank branches located?
Kyiv, Antonovycha st., 45
Mon-Fri, 11:00am - 7:00pm
Sat, 12:00am - 4:00pm
Odesa, st. Katerynynska, 2
Mon-Fri, 11:30am - 6:30pm
Sat, by appointment