All transactions undergo mandatory
AML verification
– more details
here
Exchange instructions can be found
here
Sell Tether (USDT) in Chernivtsi
---
Rate Bitcoin
Bitcoin (BTC)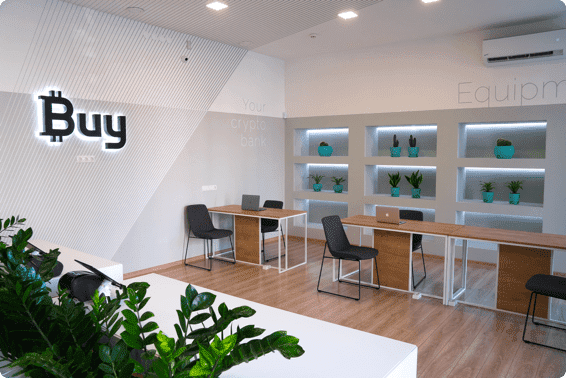 Do you want to exchange cryptocurrency for cash? Come to BUYBank official branch!
The top-rated company that offers safe withdrawal of digital assets.

We provide the possibility of offline exchange in any major city of Ukraine.

Partnership.

95% of users who have effected a transaction through BUYBank for the first time become our regular customers.

Transparent terms of cooperation.

We have a sufficient reserve of fiat currency and do not ask to send coins in advance.
How to Sell USDT in Chernivtsi: Secure Exchange from BUYBank
USDT is considered one of the most in-demand digital assets in the cryptocurrency market. Fiat dollars back this stablecoin in a 1:1 ratio. The issuing company, Tether, ensures sufficient reserves and collaborates with independent auditors and regulators in the United States. Thanks to its high liquidity, selling this token is effortless. If you want to exchange USDT for hryvnias or dollars in Chernivtsi, take advantage of the services offered by the all-Ukrainian exchange platform, BUYBank. Here, you can quickly submit a request to sell the stablecoin and receive cash at a partnered exchange service.
Why is USDT Popular?
USDT (Tether) was the first stablecoin introduced to the cryptocurrency market. This stable digital currency was launched in 2015 by Tether Limited, and its popularity has been steadily growing ever since. The token combines the advantages of fiat money and cryptocurrencies. It is secure against hacking and fraud and is not subject to volatility.
To buy/sell USDT, you can use centralized and decentralized exchanges, as well as trusted exchange services like BUYBank. The coin is used as an investment instrument, a trading asset, and for the payment of goods and services. Transfers using Tether are practically instantaneous, regardless of the location of the sender and recipient. This is especially important for cross-border transactions.
Like other stablecoins, Tethers allow you to protect your capital from volatility. The value of USDT remains stable, with fluctuations typically not exceeding 1%. Holding your assets in USDT can be a wise decision during periods of economic instability or cryptocurrency market downturns.
Show more
Where are BUYBank branches located?
Kyiv, Antonovycha st., 45
Mon-Fri, 11:00am - 7:00pm
Sat, 12:00am - 4:00pm
Odesa, st. Katerynynska, 2
Mon-Fri, 11:30am - 6:30pm
Sat, by appointment