All transactions undergo mandatory
AML verification
– more details
here
Exchange instructions can be found
here
Sell Tether (USDT) in Kolomyia
---
Rate Bitcoin
Bitcoin (BTC)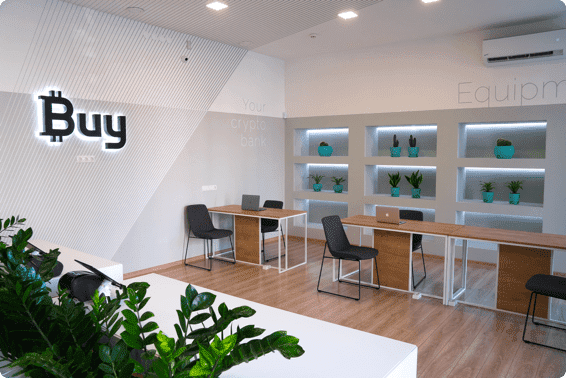 Do you want to exchange cryptocurrency for cash? Come to BUYBank official branch!
The top-rated company that offers safe withdrawal of digital assets.

We provide the possibility of offline exchange in any major city of Ukraine.

Partnership.

95% of users who have effected a transaction through BUYBank for the first time become our regular customers.

Transparent terms of cooperation.

We have a sufficient reserve of fiat currency and do not ask to send coins in advance.
How to Sell USDT in Kolomyia: Simple Instructions from BUYBank
In the ever-changing landscape of the cryptocurrency ecosystem, where the prices of volatile assets can fluctuate significantly, there is a need for a stable alternative. This is where stablecoins come into play, acting as "islands of stability." A prime example is USDT, one of the most well-known crypto assets backed by fiat currency. Suppose you have already invested in this token and are considering selling USDT in Kolomyia. In that case, BUYBank is ready to offer you a convenient, secure, and profitable solution for your transaction.
Key Advantages of the Stablecoin
USDT (Tether) is a cryptocurrency pegged to the US dollar at 1:1. Each token is backed by stable reserves in dollars, some of which are held in accounts by Tether Limited, the issuer of USDT.
Created in 2015, the USDT token exhibits minimal price fluctuations. This sets it apart from other digital currencies like Bitcoin or Ethereum. The main advantage of this asset is its nearly zero volatility and stable USDT exchange rate. Holders can use it to lock in profits and further invest, enabling them to preserve their savings in cryptocurrency with minimal risk of loss.
Operations involving Tether have their own unique characteristics. Throughout its existence, the token's value has fluctuated by less than 8-9%. This allows holders to avoid risks associated with many other digital assets without having to convert their funds into fiat money during market downturns.
USDT also forms trading pairs with numerous other crypto assets, creating favorable conditions for traders. They can easily buy and sell Tether, swiftly exchanging it for the desired currency.
If you have realized profits in Tether after a successful exchange of digital funds and are seeking the opportunity to convert USDT to dollars or hryvnias in Kolomyia, turn to BUYBank.
Show more
Where are BUYBank branches located?
Kyiv, Antonovycha st., 45
Mon-Fri, 11:00am - 7:00pm
Sat, 12:00am - 4:00pm
Odesa, st. Katerynynska, 2
Mon-Fri, 11:30am - 6:30pm
Sat, by appointment