All transactions undergo mandatory
AML verification
– more details
here
Exchange instructions can be found
here
Cryptocurrency exchange in Ukraine for cash
---
Rate Bitcoin
Bitcoin (BTC)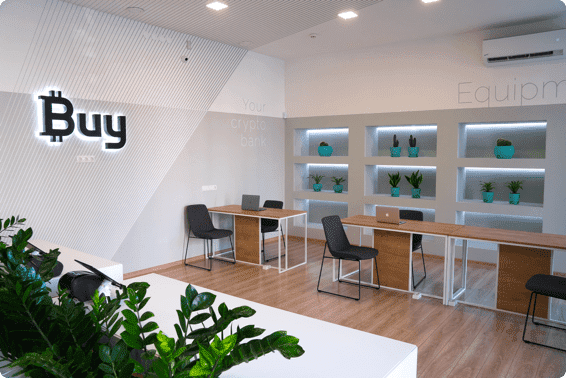 Do you want to exchange cryptocurrency for cash? Come to BUYBank official branch!
The top-rated company that offers safe withdrawal of digital assets.

We provide the possibility of offline exchange in any major city of Ukraine.

Partnership.

95% of users who have effected a transaction through BUYBank for the first time become our regular customers.

Transparent terms of cooperation.

We have a sufficient reserve of fiat currency and do not ask to send coins in advance.
BUYBank: Secure and Fast Cryptocurrency Exchange for Cash in Ukraine
New information about cryptocurrencies is constantly circulating on social networks. This niche actively develops and attracts more users who invest in virtual assets for capital preservation and growth, convenient online transactions, and inexpensive cross-border transfers. Another significant advantage of well-known digital assets is their high liquidity, making it easy to exchange cryptocurrencies for cash. The all-Ukrainian exchange BUYBank is ready to offer its services, guaranteeing secure, fast, and user-friendly transactions.
Benefits of Investing in Cryptocurrencies
The emergence of virtual assets has opened the path to financial freedom, more significant earning potential, and individual savings on fees. Some of the main advantages of using cryptocurrencies include:
Protection against inflation: Governments and central banks cannot regulate the exchange rate of Bitcoin and many other cryptocurrencies. The value of each digital asset is determined by supply and demand.
High security and privacy: Cryptocurrencies like Bitcoin, Tether, and many others are built on blockchain technology, which employs sophisticated cryptographic methods. Decoding these "mathematical puzzles" is practically impossible.
Economically efficient transfers: Due to low transaction costs, cryptocurrencies are frequently used in Ukraine for sending money abroad without significant fees.
High transaction speed: Both domestic and international transfers are executed quickly, despite undergoing multiple verifications.
Wide range of earning opportunities: Bitcoin is a highly volatile asset that provides ample opportunities for speculation on cryptocurrency exchanges.
Short-term or long-term investment options: If you want to protect your savings and avoid significant risks, consider USDT, pegged to the U.S. dollar at a 1:1 ratio. Storing capital in Tether protects it from inflation and market instability.
Selling virtual assets should consider your financial goals and chosen trading strategy. For example, if you bought BTC at the end of 2022, around $16,000 to $17,000, and have already profited from its price surge, you may want to sell Bitcoin now. Other reasons could include an urgent need for cash (for medical treatment or expensive purchases) or the desire to invest in other promising crypto assets.
Show more
Where are BUYBank branches located?
Kyiv, Antonovycha st., 45
Mon-Fri, 11:00am - 7:00pm
Sat, 12:00am - 4:00pm
Odesa, st. Katerynynska, 2
Mon-Fri, 11:30am - 6:30pm
Sat, by appointment